This program is targeted at those who are interested in joining our Premium program completely FREE or at a reduced cost. For details to participate in this program, see below: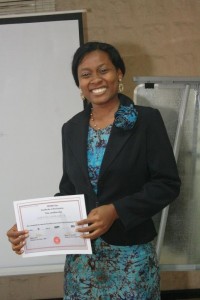 Above Picture: Miss Similade Adewuyi was the first beneficiary of our PMP Full Scholarship
A total of five persons will be granted scholarships – One favored individual will attend our PMtutor Premium class totally tuition-free with all benefits that come with attending the class while four individuals will win part-scholarships to the tune of 33.3% savings and get all the benefits of attending the class.
How to contest?
Write an essay of 250 words only on "The relevance of PMP certificate to the Nigerian state". 
Deadline for Submission
All essays must be sent to  "support [at] pmtutor [dot] org"   on or before 10pm, 20th day of the month prior to PMtutor Premium Class. Please, see schedule of the PMtutor Premium; kindly click PMtutor Premium HERE
That means if you want to attend the February 2013 Class which is scheduled for 2nd, 3rd and 10th; you need to submit your essay before 20th of January.
Mode of Communications
All winners will be sent an email by 22nd day of the month prior to the class starting.
_______________________________________________________________________________________